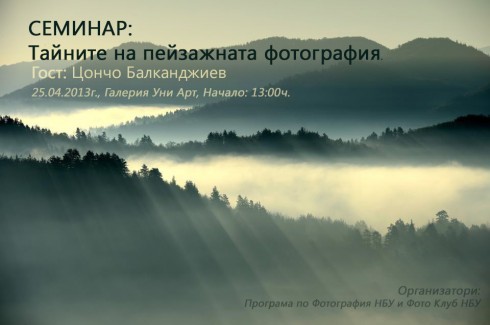 THE SECRETS OF LANDSCAPE PHOTOGRAPHY - a lecture by Tzoncho Balkandjiev
Cinema, Advertising and Show Business Department
Photo Club NBU
THE SECRETS OF LANDSCAPE PHOTOGRAPHY
a lecture by Tzoncho Balkandjiev
Within "Photo Club NBU Week"
April 25, 1:00 - 5:00 p.m.
UniArt Gallery
Tzoncho Balkandjiev is a prominent Bulgarian photographer who lives and works in Pavlikeni (Veliko Tarnovo district). For the last 20 years he has published extensively in numerous Bulgarian magazines and newspapers. His works have been featured in more than 14 solo exhibitions.