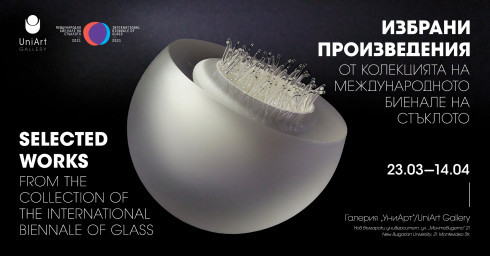 Selected Works from the Collection of the International Biennale of Glass
Selected Works from the Collection of the International Biennale of Glass
23 March - 14 April 2022
UniArt Gallery, New Bulgarian University
Official opening: 23 March, 6 PM
___
Glass. A unique means of expression in the fields of fine arts, design and architecture.
A material that exists for millennia, created by man for man. It continues to be rediscovered and developed. With its exceptional qualities and possibilities, it logically becomes the material of the future. Many exceptional artists, as well as young talented artists seek and choose glass as a medium for the realization of their creative ideas. The year 2022 has been declared the International Year of Glass.
The idea to create and develop the International Biennale of Glass was born here in Bulgaria, at the New Bulgarian University, where 15 years ago I was invited to create a glass art speciality. One of the main goals of IBG is to support and help young artists who have chosen to take the thorny path of fine arts. The IBG motto "Together" bespeaks this idea.
The third edition of the Biennale coincides with the thirtieth anniversary of NBU, an institution which, naturally, is one of IBG's main partners. We hope that this is a good omen for our joint work.
In the Year of Glass, we decided to organize a series of exhibitions of the Biennale collection. The first exhibition, of course, will be opened at the UniArt Gallery of NBU. The exhibition will highlight the Dutch and Italian participation in the Biennale, by showcasing artworks by participants from the Netherlands and Italy, who have generously donated them to IBG's permanent collection. The day after the opening, on 24 March, the Biennale will also host a webinar with four donors: Dutch artists Tirza Verrips, Krista Israel and Jan Hooghiemstra, and Italian artist Caterina Zucchi. We thank the Embassy of the Netherlands in Sofia and the Italian Cultural Institute in Sofia for their support!
In these difficult times, we express your sympathy for Ukrainian citizens and hope for international unity, as the kind we achieve here through the art of glass.
Proceeds from the sale of the catalog to this exhibition will be donated to the Bulgarian Red Cross in support of Ukraine.
Konstantin Valchev
Artistic Director of IBG