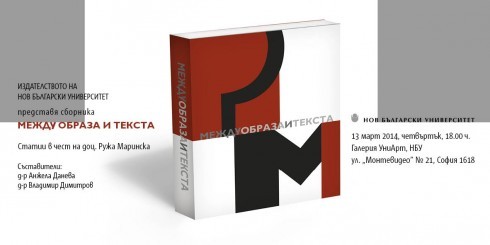 Presentation of the volume "Between image and text"
New Bulgarian University Publishing Center presents
BETWEEN IMAGE AND TEXT
Articles in honour of Assoc. Prof. Ruzha Marinska
edited by Angela Daneva and Vladimir DImitrov
13 March, 6:00 p.m.
UniArt Gallery
Ruzha Marinska is an acclaimed art historian with a focus on twentieth-century Bulgarian art and Bulgarian Modernism in particular. She is former director of the National Gallery of Art. Currently she teaches art history at New Bulgarian University.