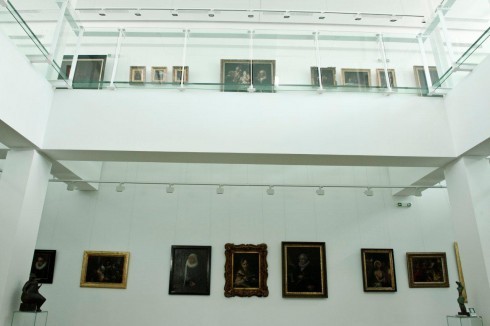 Presentation of the catalog CONTEMPORARY BULGARIAN SCULPTURE
On November 23 (Friday) UniArt Gallery presented the catalogue "Contemporary Bulgarian Sculpture" as well as new acquisitions from its painting collection. The event was opened by Assoc. Prof. Plamen Bochkov, Rector of New Bulgarian University, and Dr. Bojidar Danev, Executive chairman of the Bulgarian Industrial Association, member of the Board of Trustees and principal donator.
The catalog is authored and edited by Dr. Angela Daneva. Lavishly illustrated, it contains a detailed information on the sculptors and their works.
It became clear that Bojidar Danev and his family intend to donate the sculptural collection which had been hitherto lent for long-term display.
Irina Genova, a professor at the Art History and History of Culture Department, introduced the new acquisitions in the painting collection. Irina Genova will head a seminar on the European Painting collection that is about to start at UniArt Gallery.