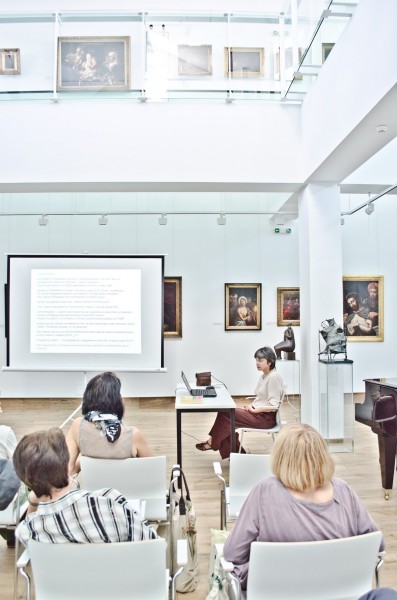 Post-seminar "Contemporary art and culture – Istanbul"
A post-seminar on contemporary art and culture took place at UniArt Gallery. The event was intended to summarize the results from a previous visit to Istanbul in May this year. In the capital of Turkey students could attend a large-scale exhibition of Dutch painting of the Golden Age. At the post-seminar they found a relevant basis for comparison and commentary.
"Contemporary art and culture in Southeast Europe" is the name of a long-term project funded by the Central Fund for Strategic Development at New Bulgarian University and run by prof. Irina Genova and doc. Natalija Hristova. The project aims at introducing students to the cultural innovations of the modern epoch by presenting leading centres on the Balkans, their exhibition spaces and museums.
In Istanbul participants had the opportunity to visit Dolmabahce Palace, Istanbul Modern – The Museum of Modern Art, the newly opened SantralIstanbul, Orhan Pamuk's Museum of Innocence and others. Major attention however was given to the exhibition "Rembrandt and his contemporaries" hosted by Sakip Sabanci. More than a hundred works from Rijksmusem (Amsterdam) as well as items from private collections were on display. Besides Rembrandt one could see masterpieces by Jan Steen, Frans Hals, Jacob van Ruisdael and Vermeer.
Links:
(Rijksmuseum in Amsterdam)
http://muze.sabanciuniv.edu/page/where-darkness-meets-light
(The Rembrandt exhibition at Sakip Sabanci Museum)