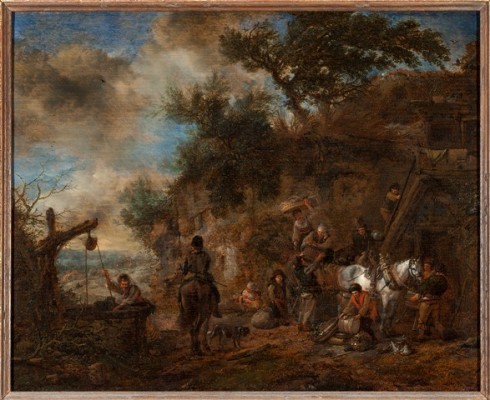 Painting by Philips Wouwerman discovered
A hitherto unpublished painting by Philips Wouwerman (1619-1668) was discovered following an evaluation session at the Netherlands Institute for Art History. Wooded landscape with peasant folk gathered outside an inn (the picture on the left) was bought at auction in New York in the 1960s and has been in a private collection in the Netherlands ever since.
Wooded landscape dates back to the 1650s and is distinguished for its fine technique, which is one of Wouwerman's hallmarks. His younger brother, Pieter (1623-1682), worked in the same style. Both painters were unmatched in their depiction of horses and hunting scenes and their ability to combine landscape with genre.
A canvas painted by a follower of Pieter Wouwerman can be seen at UniArt Gallery.