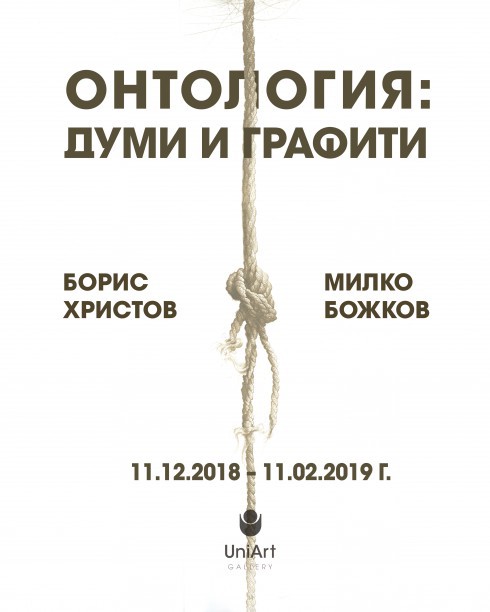 ONTOLOGY: WORDS AND GRAPHITE
ONTOLOGY: WORDS AND GRAPHITE
11.12.2018 - 11.02.2019
On 11.12.2018, UniArt Gallery will present Boris Hristov and Milko Bozhkov's bibliographic project. From 17 to 20 o'clock you will have the chance to meet the curators and explore the exhibition. In the space of the gallery 31 graphics by the artist Milko Bozhkov will be accompanied by the poems of Boris Hristov, collected in the edition Words and Graphite, from prof. Bogdan Bogdanov's collection.
Poetry is created based on specially selected words arranged in a specific form and following a certain rhythm in order to achieve imagery. It employs language, but it is not language in itself. On the other hand, abstractionist art resembles language, because it is created and interpreted by non-formalist methods, in other words, in order to be meaningful, it must pass through language, which gives it form.
Combining abstract graphics with poetry, Boris Hristov and Milko Bozhkov create a hybrid art that most accurately can be described as a communication of human experience with universal axioms. Thus, the artworks allow space for philosophical contemplation and reflection. The works featured in the exhibition can be seen as elements of a theory describing the body and the metaphysical, the cosmic and earthly forces. Very rarely, we have the opportunity to turn our backs on the shadows that make up our world and see their real faces, to know their reality, which is invariably ours. With this exhibition, we are challenging the audience to do just that.
---
Boris Hristov is a poet, screenwriter and fiction writer. He is the author of the poetry book Evening Trumpet and The Honest Cross, the novel The Father of the Egg and the poems The Blind Dog, The Valley of the Shoes and The Death Spot; books with the tercets Words and Graphite, Words on Other Words, Black Letters on Black Paper and others. He is the winner of the Grand Literary Prize of Sofia University St. Kliment Ohridski, 2000 and the first prizewinner of the Bogdan Bogdanov Humanitarian Award of New Bulgarian University, 2017.
Milko Bozhkov is one of Bulgaria's most significant contemporary graphic artists. In 1980, he participated in the Vulcan artistic workshop in Varna. He has more than 100 solo exhibitions in Bulgaria and abroad, he has participated in biennials and festivals of graphics around the world. His works are part of local and international collections.
Curators: Dobromira Terpesheva and Rosena Ivanova