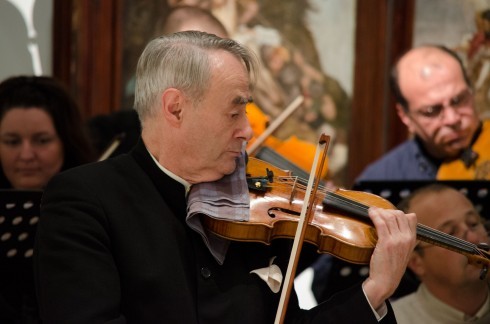 Gerard Poulet at UniArt Gallery
Gerard Poulet is a gifted performer and a talented teacher of international fame. His father, the violinist and conductor Gaston Poulet had the privilege of giving the first performance of Debussy's Sonata in 1917, with the author at the piano. Gérard started his career as a child prodigy. He entered the Conservatoire National Supérieur in Paris at the age of eleven, and left the following year with a unanimously awarded first prize. Aged eighteen, he carried off the first prize at the Paganini Competition in Genoa.
Numerous concerts were to follow worldwide. Gerard Poulet benefited from the teaching of such masters as Zino Francescatti, Yehudi Menuhin, and especially Henryk Szeryng, who considered him his "spiritual heir".
Besides giving master classes all over the world, Gérard Poulet also teaches at the Vienna and Beijing Conservatoires and at the Ecole Normale de Musique in Paris. At UniArt Gallery he gave a performance with Simfonieta Otchestra and Milena Mollova. The concert displayed depth in the movements, cohesion and lightness, and a masterful playing.