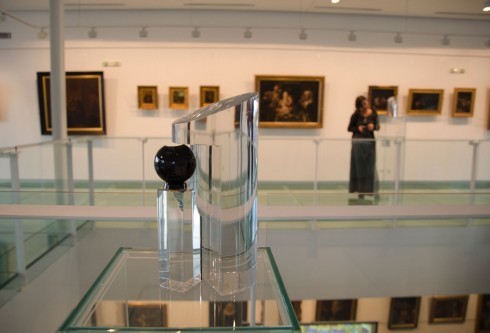 Exhibition by Konstantin Valchev at UniArt Gallery
An anniversary exhibition by Konstantin Valchev opened at UniArt Gallery on October 7. The exhibition, adequately titled "Reflections", features more than fifteen glassworks from different periods of Valchev's career.
This is the first temporary exhibition to take place at UniArt. It will provide a comprehensive view of a leading glass artist's oeuvre as well as insights into the creative process inherent to the production of glass sculpture itself. Ranging from stereometric volumes to elaborate colourful forms, the works on display are intended to immerse the viewer into a complex interplay of refractions, reflections and optical effects. Technical expertise and a geometric approach have been combined to produce artworks of enigmatic quality that demand a close viewing and that also appear to be in full synchronicity with the gallery's interior setting.
Eschewing thematic division in favour of dense associative charge, the exhibit has placed an emphasis on the very material and its own dynamic properties. "What is truly amazing about glass, is that you can see through it. My aim is to master the unique properties of glass thus revealing the medium's strength", Valchev has stated.
The exhibition will continue until November 11.
------
Konstantin Valchev graduated in 1987 from the Fine Arts Academy in Prague where he studied in the atelier of prof. Stanislav Libensky. Since 1984 he took part in numerous prestigious forums, both nationally and internationally, proving his qualities as a master of contemporary glass art. Valchev is a member of the Union of Bulgarian Artists, the Union of Prague Artists (Nove Sdruzeni Prazskych umelcu) and the Glass Art Society. He has an entry in Who is who of European Glass Artists.
Konstantin Valchev is currently teaching glass art in the department of plastic arts at New Bulgarian University in Sofia.

The artist lives and works in Prague and in Sofia.