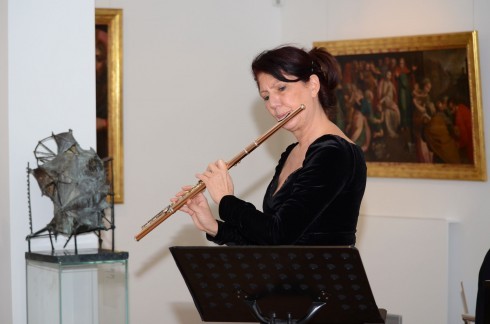 Concert by Luisa Sello and Milena Mollova
A master class with Prof. Luisa Sello was held at UniArt Gallery from 22 to 25 January. Pupils and students had the chance to work with an Italian flutist of international fame who currently teaches at Conservatorio Giuseppe Tartini (Trieste).
The master class concluded with a performance by Sello and pianist Milena Mollova. Popular opera themes adapted for flute and piano formed the core of the programme but experimental pieces by Luciano Berio and Rainer Bischof were also performed.
Luisa Sello is one of the most surprising personalities of contemporary art, an elegant flautist and one of the most applauded interpreters of cultured music.

Her working activities are supported by the Italian Ministry of Foreign Affairs and by the Ministry of Culture as a 'unique artist with an exceptional versatility and enchanting charm which is able to reach the soul of each listener leaving behind an unforgettable emotion'.