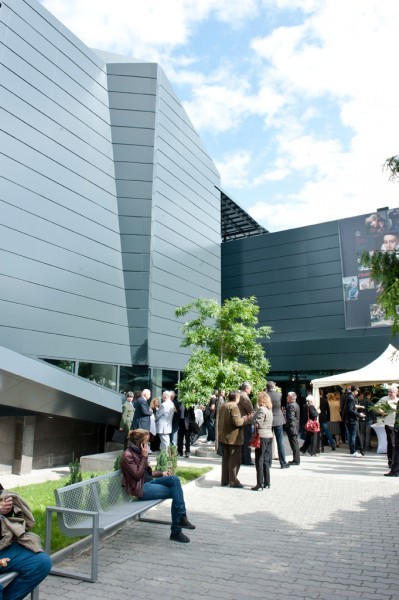 A new gallery opened at New Bulgarian University
Today, May 19th (the museums and galleries day), saw the inauguration of UniArt Gallery at New Bulgarian University. The larger part of the artworks has been donated by Bojidar Danev's family. Bojidar Danev is the executive chairman of the Bulgarian Industrial Association and a member of the Board of Trustees at New Bulgarian University.
UniArt Gallery features three collections distinct yet fully integrated into the architectural space constructed for the purpose. Paintings by European masters (mostly Dutch and Flemish from the 16th to the 19th centuries) constitute the nucleus of the permanent exhibition. A vast sculptural collection includes works by contemporary Bulgarian sculptors such as Vezhdi Rashidov, Pavel Koychev, Stefan Lyutakov and others. Also on display are late-period oil paintings by Ivan Kirkov.
The inauguration was attended by Sergei Ignatov (Minister of Education, Youth and Science), representatives of the Bulgarian business and academic community, artists, students, Bojidar Danev's relatives and friends.
The gallery was built in 2011-2012 to a design by architect Zarko Uzunov who teaches at New Bulgarian University. The new exhibition hall will give the opportunity of appreciating significant works of art in an authentic milieu thus lending it aesthetic and academic value alike. It is not common for universities in Bulgaria to possess art collections of this kind – a fact that makes the gallery unique. The new hall is of national importance due to the artworks' exceptional value. Alongside the university's theatre, museum and centre of arts – all part of the campus – the gallery contributes to the academic activity. It will provide a medium for research, educational programs and a variety of events.
"The gallery's name was not randomly chosen… Uni – for it is part of the university itself uniting the richness of institutions, theatre, school, library and museum; Uni – for it defines the unity of creation, talent and skill; Uni – for it is part of the Universe; Uni – for it unites classical art, modern painting and sculpture, Renaissance masters and Bulgarian authors..", Bojidar Danev commented.